Products Category
Skin Cutting Machine
Skin Cutting Machine

| | |
| --- | --- |
| Model | IDP-530T/48 |
| Cutting Force | 30tons |
| Cutting Area | 610x1220mm |
| Motor | 2.2KW |
| Stroke | 55-245mm |
| Machine Size | 1950x1320x1260mm |
| Machine Weight | 1700kg |
Machine Picutre: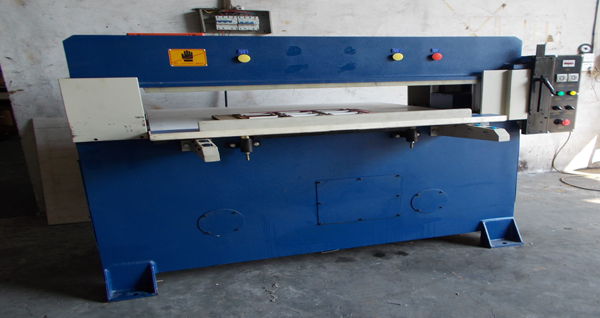 Main Feature:
1. Double oil cylinders, precise four-column automatic balance connecting rod structure, to ensure that the cutting depth of each cutting position is completely camera.
2. With special long stroke setting, suitable for special thick materials and extremely high die stroke.
3. When the cutting board presses down and contacts the cutting knife, it automatically cuts slowly, so that there is no size error between the uppermost layer and the lowermost layer of the cutting material.
4. The unique setting structure, matched with the cutting knife and cutting height, makes the stroke adjustment simple and accurate.
5. The central automatic lubrication system ensures the accuracy of the machine and improves the durability of the machine.